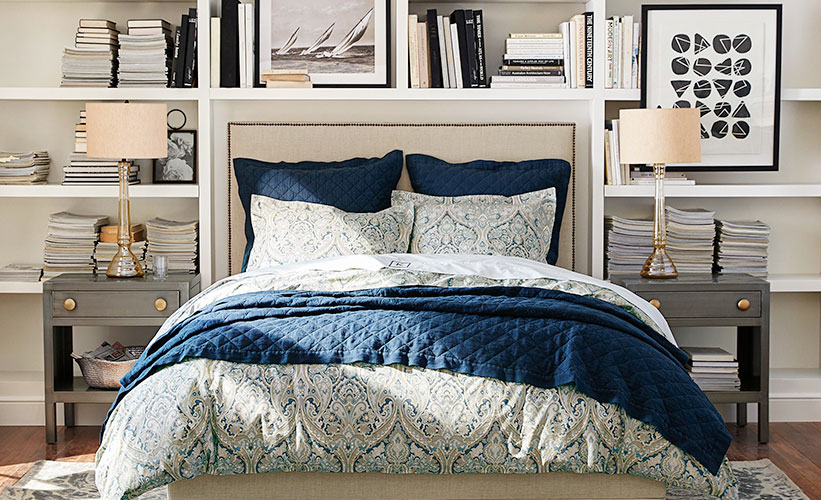 No matter how large or small your bedroom might be, storage always seems be at a premium. Staying organized helps, but to create a functional bedroom space from scratch, you need to integrate plenty of storage into the room. Get started and maximize your bedroom storage with our clever bedroom storage ideas.
1. GO UNDER OR GO OVER
Take your storage above and below the bed. Build a bank of cabinets into the wall or use shelving systems, to maximize the storage space surrounding your bed. This gives you a custom-built look and plenty of storage space without taking up too much square footage.
Alternatively, use the prime real estate below your bed to add ample storage to a tight space. Bed frames with integrated drawers work well, but you can also add under-bed storage containers, organizers and baskets to store stuff below your bed.
2. THINK OUTSIDE THE NIGHTSTAND
Ditch the traditional bedside table in favor of a pair of floating shelves. You can keep all your items organized in a stylish storage box and use the extra space beneath the shelf to store shoes, magazines and other items neatly in a lidded basket.
Bonus tip: opt for hanging pendant lights or wall sconces instead of  a table lamp next to your bed. You'll have just as much light and extra storage space beside your bed.
3. SHELF IT
Shelves offer nearly endless ways to configure your space to display prized decorative items, add extra storage or even double as a desk. This is particularly helpful if your bedroom also has to pull double duty as your office. Install a high shelf along the length of one entire wall or wrap it around the whole room. Use it for your decorative items, books or things that you might not need to have within easy reach on a daily basis. Similarly, installing cabinets above head level adds clever storage to an often-overlooked area.
4. MULTITASK
You don't have to spring for the biggest, most elaborate furniture to add extra storage into your space. For example, a simple wood crate can be both a nightstand and a space to store books. Likewise, when you're brainstorming for bedroom storage ideas, look for pieces that can serve more than one purpose. For example, opt for a full-size dresser next to your bed instead of a bedside table or incorporate a bench with storage to keep things organized and out of sight.
5. OUT OF THE CLOSET
Closets aren't the only option when it comes to storing your clothes. Use every available bit of space by installing closet shelves just outside of your closet or by adding plenty of hooks along the wall. You can also take the pressure off of your closet by vacuum packing your out-of-season wardrobe so that it takes up a fraction of the space in your closet.
6. GO BIG
Imagine storage so expansive that it takes up one entire wall. Wardrobe wall systems do take up a bit of room, but they add so much storage to the space they often eliminate the need for a lot of other storage solutions. If you have a small bedroom, choose a wardrobe wall in a light color to avoid making the space feel smaller.