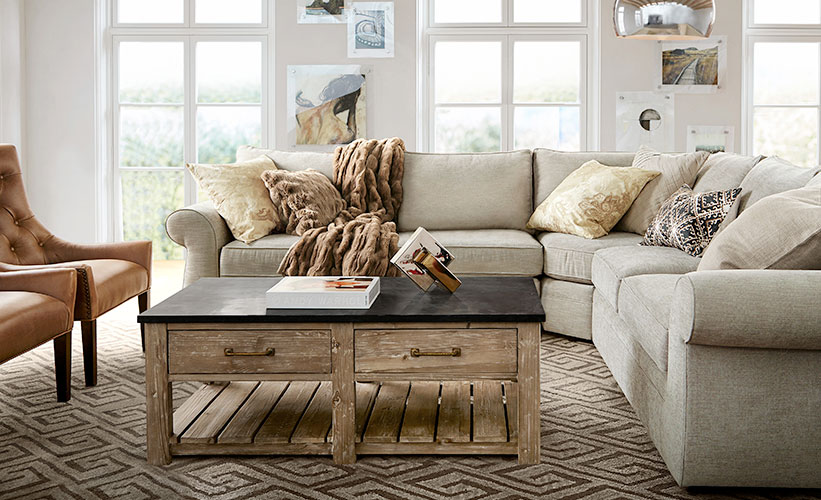 From family movie night to catching up with friends over coffee, your living room is just as important as the kitchen when it comes to entertaining. When it comes to furniture, let's be honest: it needs to look good and be super comfortable. You want your living room to be a warm, welcoming environment for friends and family to spend time, and it needs to withstand the rigors of daily use. Follow our simple tips below to find the right living room seating for your space so you can enjoy it for years to come.
1. KNOW WHAT YOU'RE WORKING WITH
It might seem obvious, but we'll just come right out and say it: if you haven't already measured the room, go ahead and do it now. You can even take it one step further and draw out a floorplan to help you visualize your space. Consider where people walk, which areas require easy access and where the doors and windows are so you'll have enough space to move around with ease.
If you mainly watch television, you need to select furniture that fits in the room oriented towards the television; if you enjoy family game nights and conversation, you may want a coffee table that's big enough for the board game, but small enough that you can sit comfortably around it.
2. CONSIDER THE SCALE OF YOUR ROOM
A large sectional that feels right-at-home in a spacious room can really overwhelm a smaller space, so make sure to take a good look at the dimensions of any furniture you buy. Feeling lost? No worries. You can stop by your local Pottery Barn store and our style experts will help you create a floorplan and seating arrangement that suits your space – totally free.
3. USE MULTIPLE SEATING AREAS
The way you arrange your seating should reflect the many ways in which you use the space. For example, use a sectional to create a comfortable area for group gatherings and a pair of armchairs off to the side for more intimate conversations. If you're hosting a particularly large party, just pull the armchairs over so there's plenty of space for everyone.
4. DESIGN FOR DURABILITY
If you have a large family and pets, durability is an essential consideration when choosing any kind of seating. Look for stain-resistant materials, leather  sofas with detachable cushion covers or slipcovers for easy cleaning, and durable fabrics that will stand up to years of use. Leather has a timeless style, is easy to wipe down and develops an attractive patina with age that adds to its look.
5. BE YOURSELF
Your home is an expression of your own personality and sense of style, so choose furniture and decorative accessories that make you happy. Incorporate reclaimed wood items for a rustic, live-in feeling or a luxe touch with a faux fur throw that looks and feels even better than the real thing. You can easily update your space by swapping out throw pillows to add pops of color and contrast or get into the holiday spirit.